How to write a visualization blog for the China Data Lab
Authors
need to be a real person and their voice, conveying attitude, personality, and character
be prepared to talk about your research in laymen's terms—don't assume the reader is as familiar with this these topics as you are
should link to a bio*

bio should list all past blogs
*Note: you list a bio on one blog post, but not on the other. Just be consistent so that the reader sees the same layout for your blogs.
Titles
they are what sells the content – (think why would should anyone read this?)
sets clear expectations for your readers – what they will discover
make your title pop (a wow factor)
keep it short and approximately 8-12 words

ideally under 70 characters so it doesn't get cut off in search engine results

can pose a question or state a fact
Length and Structure
shorter is better (online readers tend to have short attention spans)
write in "pyramid style," put the most important content at the top (see two examples below for further detail)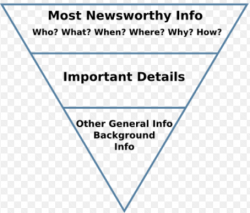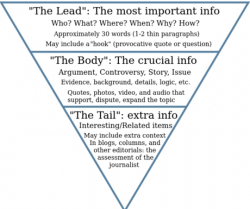 use the opening sentence (known-as the lead) to grab the attention of the reader…this sentence should take you the most effort to create
try to keep an average length of 300-600 words
if a posts is long (over a 1,000 words), break into subheaders for the reader
keep paragraphs short (easy to scan)
write short sentences (easy to read)
hyperlink to details without delving too much (such as papers or data)
if highly technical, give background for the average reader
Visuals
find a strong image to set the stage for your blog post
source your items
Note: creating interactive graphics and maps are key for your posts, but think about a photo in the beginning to catch the reader's eye.