Chinese Talent, American Enterprise
③ Patents by Chinese inventors overwhelmingly benefit American companies.
Ninety Eight percent of patent with assignees in the period covered in our research, are "assigned" or owned by corporations, the rest are assigned by governments or individuals.[1] According to our analysis, the absolute majority of patents invented by ethnic Chinese are assigned to American companies. Cumulatively, about 74 percent of U.S. biotech patents filed by ethnic Chinese inventors from 1976 to 2019 were assigned to American companies, with only 8 percent assigned to Chinese companies.[2]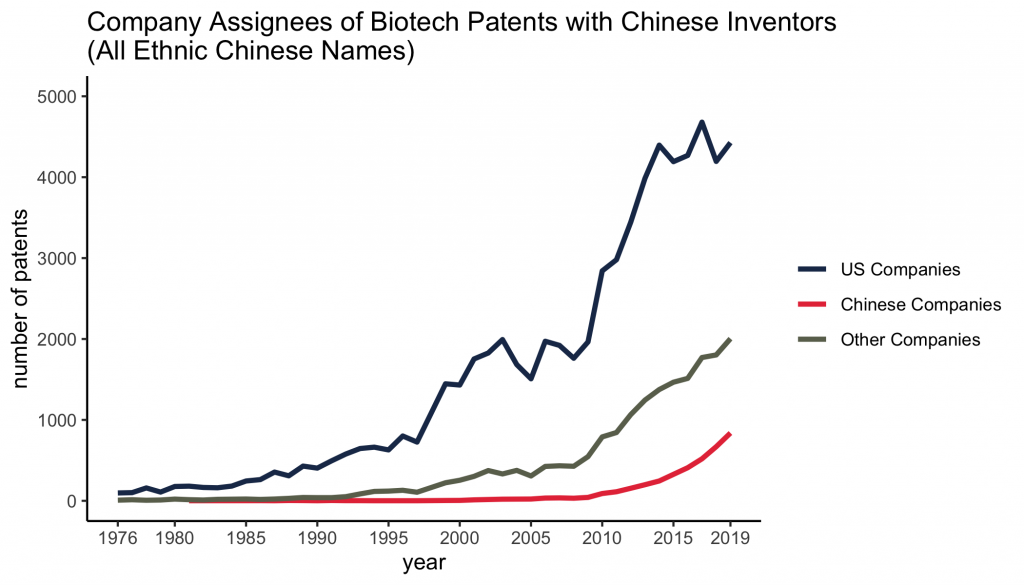 This pattern of assigneeship is similar to the case of Indian inventors (Fig 3b). Most of the U.S. biotech patents invented by Indians are assigned to American or other foreign companies. But the Indian/Chinese pattern contrasts with that of the Japanese inventors who mostly assign their patents to Japanese companies (Fig 3c).
[1] Around 13 percent of 884,637 biotechnology patents did not match with an assignee. We believe this is random and spread over all assignee categories and all years.
[2] The remainder were assigned to other foreign companies than Chinese. Identification of companies as American or foreign is based on classification labeling of the assignees provided in the database (i.e. US/Foreign, Company/Government/Individual/unassigned). Chinese companies are further identified by the location in the record of companies labeled as foreign (non-US) companies.
Five Takeaways
Other Links