Congress Tweets @China
Written by Bailey MARSHECK with data analysis and visualization by Young YANG.
Various opinion polls such as the Gallup and Pew Research Center surveys have long tracked the ordinary Americans' views of China over the years. Elite opinions toward China, however, are elusive. They are notoriously difficult to access and evaluate by traditional survey methods. Yet it is important to understand them as they reflect, even drive, the country's foreign policy agenda. When the American elites sour on China, troubles in the bilateral relationship ensue. We believe that the current downward spiral in the U.S.-China relationship owes much to the changing views of the U.S. elite.
Enter the U.S. Congressional Tweets project: an ongoing 21st Century China Center endeavor to assess Congressional opinions towards China through analyzing the tweets by members of Congress. Congressional members belong to the elite ranks. They matter because they are both policymakers and leaders in public discourse. When a Congressperson turns very negative on China, it is more likely than not that his or her views will be reflected in legislative and political activities pertaining to China.
For this project, we gather approximately 3,500 China-related tweets by current Senators and Representatives dating back to 2008. To contextualize the opinion measures we develop, we also collect and analyze about 1,000 Congressional tweets related to Iran and 1,000 tweets related to Canada. Does U.S. congressional opinion about China as expressed on Twitter align more closely with opinion of an ally and partner such as Canada? Or does it instead mirror views of a country such as Iran, which has received widespread condemnation in the U.S. political arena? Are the two political parties split or converging in their views of China? What issues are most salient to them? By going back to 2008, we hope to benchmark the current Congressional opinion towards China in relation to previous periods.
Here is a selection of example tweets captured by our dataset: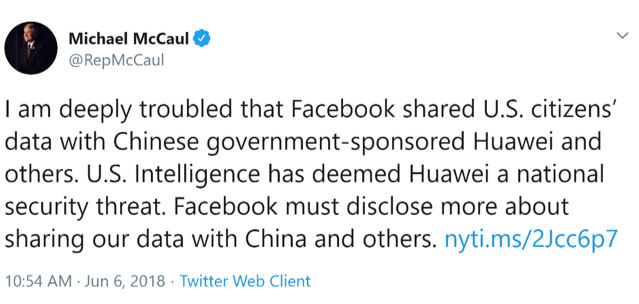 Sentiment Classification
To engineer a measure of congressional "sentiment" towards China similar to polling-generated favorability ratings, we classify the polarity of each tweet towards China, Iran, or Canada on a scale from "1" (very negative) to "5" (very positive). We then compute a polarity index. Classification by human "hand-coders" is utilized at this stage to ensure maximum accuracy. For future iterations, we are exploring the viability of supervised machine-learning classification algorithms.
Topic Modeling
Using a statistical topic modeling process, we identify major topics of discourse within our dataset of tweets. The four dominant topics that we will discuss here, by order of greatest prevalence, are "Trade", "Human Rights/Advocacy", "Security", and "Global Governance".
Initial Findings
#1: Tweets about China are similar to tweets about Iran – they are almost entirely negative.
In terms of aggregate sentiment, we find the polarity score of congressional tweets about China (1.56) to be statistically analogous to tweets about Iran (1.59). Very few of the 3,500 China-related tweets carried a majority-positive connotation. Comparatively, sentiment polarity of tweets about Canada was far more positive (3.99) and trends upward.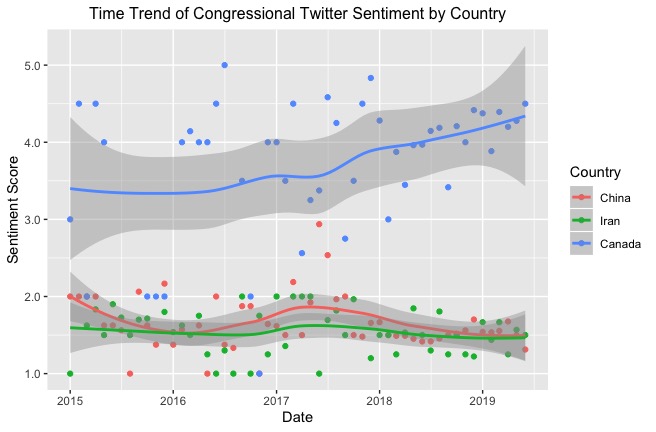 #2: Democrats and Republican Twitter sentiment on China are similar in aggregate but exhibits vastly different trends.
While Democratic sentiment towards China has been steadily declining since 2015, Republican sentiment has been far more cyclical. However, opinion has converged starting around mid-2018.
#3- Discussion of trade, human rights, and national security dominate recent Twitter discourse.
In the last few years, the prevalence of "Trade", "Human Rights/Advocacy", and "National Security" topics has remained relatively consistent even as sentiment levels have fluctuated within our dataset of tweets about China, Iran, and Canada. While issues of "Human Rights/Advocacy" are not a major consideration of the Trump administration, Congressional opinions on human rights have been relatively stable over the years. "Human Rights" tweets overwhelmingly refer to the historical events of Tiananmen Square or more recent incidents of Chinese domestic repression, while "National Security" tweets about China generally reference the hard and soft power threats China poses alongside other "bad actors" like Russia. Finally, tweets about "Trade" mention U.S.-China tariffs, trade competitiveness, and other evaluations of the bilateral trade relationship.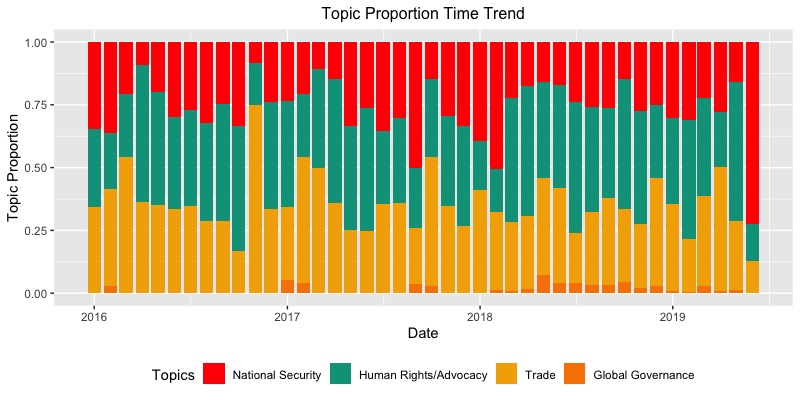 This blog is based on an on-going project on the U.S. Congress Sentiment led by Drs. Lei Guang and Young Yang, with the participation of Jingwen Liu, Bailey Marshek, and Adam Wu.
---
Author
Bailey Marsheck is a recent UC San Diego graduate and research assistant for the 21st Century China Center at the School of Global Policy & Strategy at UC San Diego. He focuses on empirical analysis of the U.S.-China relationship, namely social media text analysis. Bailey will begin his Master's in Chinese Studies (Politics and IR concentration) at Beijing University's Yenching Academy in the fall of 2019.